Workshop: Katherina Manolessou
May 2016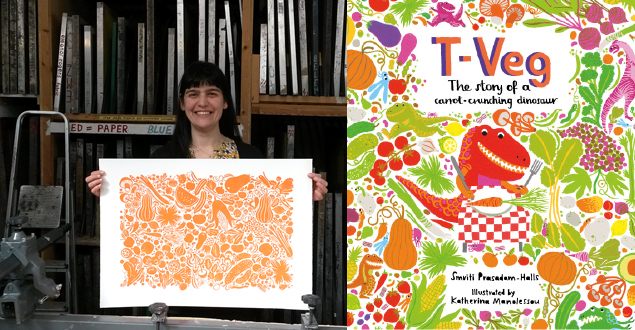 We are pleased to feature, as our artist of the month, the illustrator, Katherina Manolessou. We will be presenting her work in a show at the gallery, and on Saturday May 14th at 10.30am Katherina will be running a free children's workshop with singing, drawing and colouring. She will also be signing copies of her latest book, T-Veg. Places are limited so please book your place by contacting us.
Katherina Manolessou grew up in Greece where she studied Chemistry. In 1995 she moved to London to work as a 2D animator and has lived there ever since. She went on to study Illustration at Kingston University and Communication Art and Design at the Royal College of Art. Her work includes commercial illustration commissions as well as personal projects such as artist's books and limited edition prints. Katherina's illustration clients include Ted Baker, Prospect magazine, The Guardian and Random House.
She works from the East London Printmakers studio where she screenprints her work.
Katherina is a Senior Lecturer in Children's Books illustration at Anglia Ruskin University
In 2011 Katherina successfully completed her practice-based PhD on animal characterisation in children's picturebooks (supervisors: Martin Salisbury and Morag Styles). Zoom Zoom Zoom, the picturebook that she developed during her research project, was published by Macmillan Children's Books in January 2014.
T-Veg illustrated by Katherina and written by Smriti-Prasadam Halls was selected by Booktrust as one of their 'Best of 2015' http://www.booktrust.org.uk/books/children/booklists/390/
Zoom Zoom Zoom was included at the Opera Prima exhibition at Bologna Fiere 2014 and included in Martin Salisbury's 100 Great Children's Picturebooks (Laurence King, 2015).