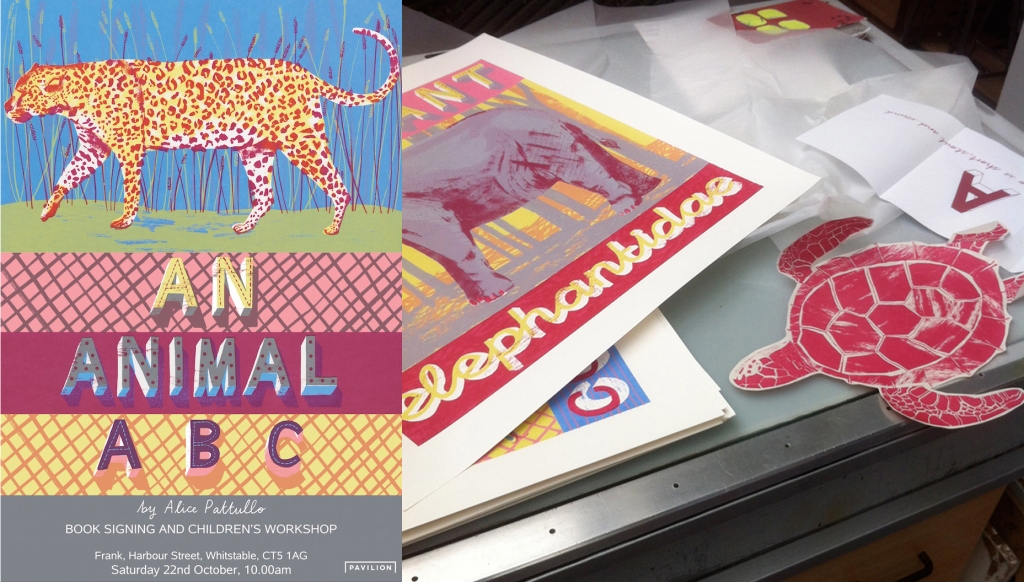 Alice Pattullo
is an illustrator based in East London. She explores British traditions, folklore and superstitions in her personal work, producing limited edition screenprints for exhibition and sale in various galleries and shops across the UK.
Alongside this Alice works on commissioned illustrations for a variety of clients including Bettys and Taylors of Harrogate, Bon Appetit, Esquire, Cecil Sharp House, Country Living, Crabtree and Evelyn, Ditchling Museum of Art and Craft, Design for Today, Faber, HHMI Bulletin, Little Toller, Nandos, National Trust, Sainsburys, The V&A Museum, and The Village Voice. She has a forthcoming one-person show at the Yorkshire Sculpture Park.
An Animal ABC is her debut children's book, which developed from an original screenprint series produced over a span of 1.5–2 years in collaboration with The Print Block in Whitstable.
The project originally started out of a desire to just 'draw' without the constraints of a commercial brief or deadline and she indulged in the ability to play around with mark-making and textures.
Alice chose to work with a limited colour palette across the whole series inspired by 1940's lithographed children's books (e.g. Puffin picture books – illustrators like Clarke Hutton, Barnett Freedman et al) referencing the use of layering up a few colours to make a larger spectrum.
Alice worked with Suki Hayes-Watkins at The Print Block to produce an edition of each letter. Then turned the original prints into a huge book (1m span when open) by binding the prints at London Centre for Book Arts along with an accompanying rhyme. It is a version of this book that has been picked up by the publisher, Pavilion Children's, to be produced in a more accessible children's book. The book features reproductions of The ABC of Animals screen prints, along with a rhyme and fact for each animals, as well as a quiz in the back.
The book will be published on October 13 by Pavilion Children's, priced at £12.99. Original prints and the book is available at FRANK.
Come to Frank at 10am on Saturday October 22 to purchase your signed and stamped copy of the book and meet the artist. Draw your own animal with Alice, looking at her prints and techniques for inspiration. Alice chose some unusual animals for her own ABC. See if you can think of a stranger one to draw or see if you can think of a new animal for the first letter of your name.
To book your place for this free event, please email, call, or pop in to
FRANK
.