Winter 2021
November 2021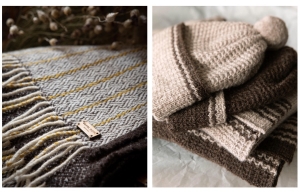 Now more than ever sustainable practices come to the forefront when we seek out makers to work with. We have re-focused on working with creatives based in the UK, in particular in moving towards a very low carbon footprint in terms of materials, the production used and transportation, both to Frank and from us to our customers.
This beautiful, carefully considered scarf from the Bristol Cloth Project—with whom we've just begun to work—uses regeneratively farmed Shetland/Romney lambswool, from Fernhill farm 15 miles from Bristol. It is dyed by Botanical Inks Natural Dye House, based in Bristol, using organic madder root and weld flower woven by the Bristol Weaving Mill.
This new collection from Kate Jones (above right) is knitted at her studio in Margate on a handpowered domestic knitting machine. The pieces are made from the finest undyed British Wool, from flocks of rare breed Blue Faced Leicester and Masham sheep.  The wool is is spun less than fifty miles from where the sheep are reared in Yorkshire, keeping the carbon footprint low and animal welfare a priority. This undyed yarn retains the beautiful hues of natural sheep's wool.
The bowl shown above is featured in our festive window display filled with locally foraged rosehips, and is by Gillian Highland, with whom we've been working for many years. This is one of a new collection of Dolomite glazed stoneware. Gillian is based in Kent, and was taught by Lucy Rie, who has remained an influence during her long creative career.
We've recently begun working with printed textile creative, Louisa Loakes. Working from her studio in Peckham, Louisa's practice is focused on the beautifully simple, slow art of hand-carved block printing. Having spent many years researching the craft, she draws particular inspiration from the processes involved in traditional Indian block printing, and her practice interweaves Eastern folk art traditions with forms and patterns familiar to western languages of abstraction. As a self-taught block printer, she approaches fabric like a painting—or one of her charcoal drawings—creating delicate, twisting patterns that repeat themselves across its surface.
This cotton bag is finished with hand-painted saffron coloured spot detail.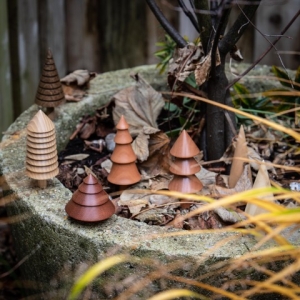 For a number of years we have been showcasing a range of collectable wooden trees from the team at Forge Creative, made in their Sussex based furniture workshop. The trees are part of the Arboretum Project, which was initiated to use offcuts from furniture production, thus reducing waste.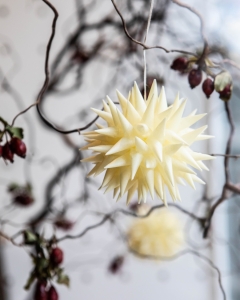 Our festive window combines contorted willow, rosehips foraged from local beaches, and these beautiful handmade hedgehog pompoms made from tissue paper for us by Karolina Merska. Her book, 'Making Mobiles' is available instore.
We are open every day up to Christmas Eve. We look forward to to seeing you.
Thanks to Karen Radford for window dressing, and to Andrew Hayes-Watkins for the photographs.