Harrington & Squires
August 2016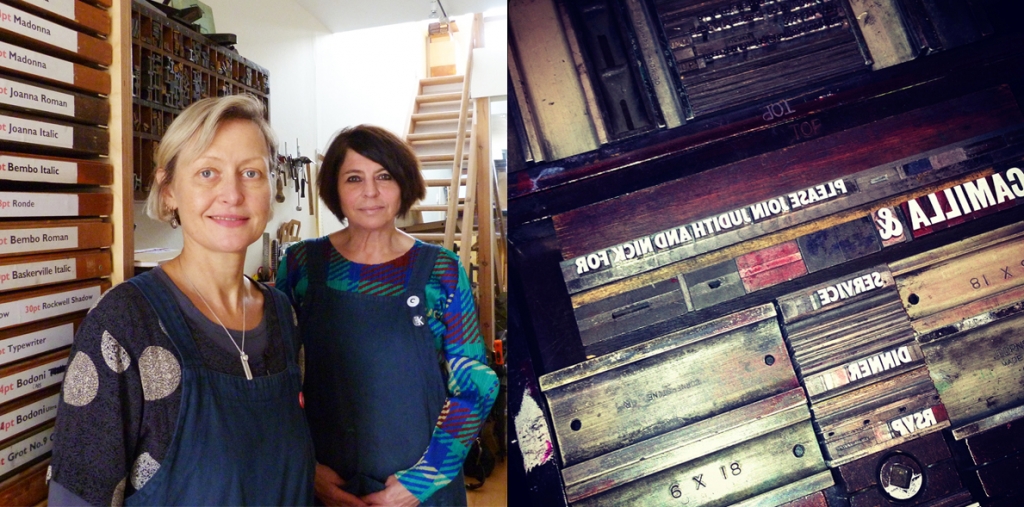 We've been working with London-based designers Harrington & Squires for a number of years now, and we're delighted to welcome them as our featured designers this month.
Chrissie Charlton and Vicky Fullick are Harrington & Squires, designers and letterpress printers based in Tufnell Park, north London. Their workshop, known as The Corridor, is 1.2 metres wide by 3 storeys high.
Chrissie studied Graphic Design at Hornsey College of Art where Bob Harrington and Horace Squires were the letterpress tutors; Vicky studied Graphic Design at St Martin's School of Art and Book Arts at the London College of Communication.
They first worked together in 1985 and came together again around 2002 when they acquired an Adana 8×5 printing press with a small amount of metal type and taught themselves how to print. Using both traditional letterpress as well as digital printing they produce products which feel and look very different from the mass-produced. As well as producing their own products such as calendars, cards, badges and small limited edition books they undertake commissions such as invitations, stationery and one-off bespoke items. They also run occasional one-day workshops on basic typography and letterpress printing.
They recently participated in the exhibition Well Said! at the Royal Shakespeare Company Theatre in Stratford upon Avon to commemorate the 400th anniversary of Shakespeare's death. Twelve artists from diverse disciplines were asked to respond to a Shakespearean quote chosen by writers, actors and poets. Their quote was chosen by the writer Jeanette Winterson and taken from The Winter's Tale. H&S designed and letterpress printed a large eight page book using both wooden and metal type, which was mounted on a circular oak board.
We have a range of H&S handprinted letterpress cards instore. The Love Letter Concertina is available to buy HERE.