Of the Earth
March 2019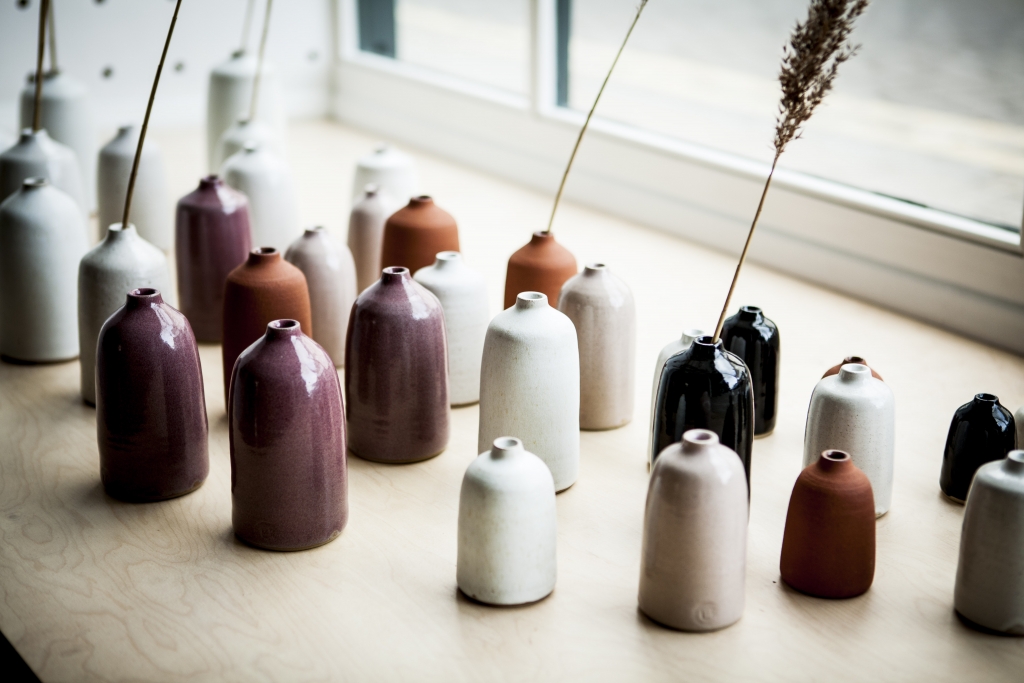 For the new season, we've invited potter Lucy Rutter and artist/designer Karen Boatwright to make a collaborative piece for our window space. We have called the show Of the Earth by way of referencing the clay used by Lucy, and the dried plants gathered and arranged by Karen. Clay that once was of the earth has now been fashioned into bottles, while dried plants are woven through a hoop, and placed around, within and above them. Karen gathers her reeds from Faversham Creek, Lucy throws pots in her studio in Faversham, and so the phrase Of the Earth now becomes site-specific.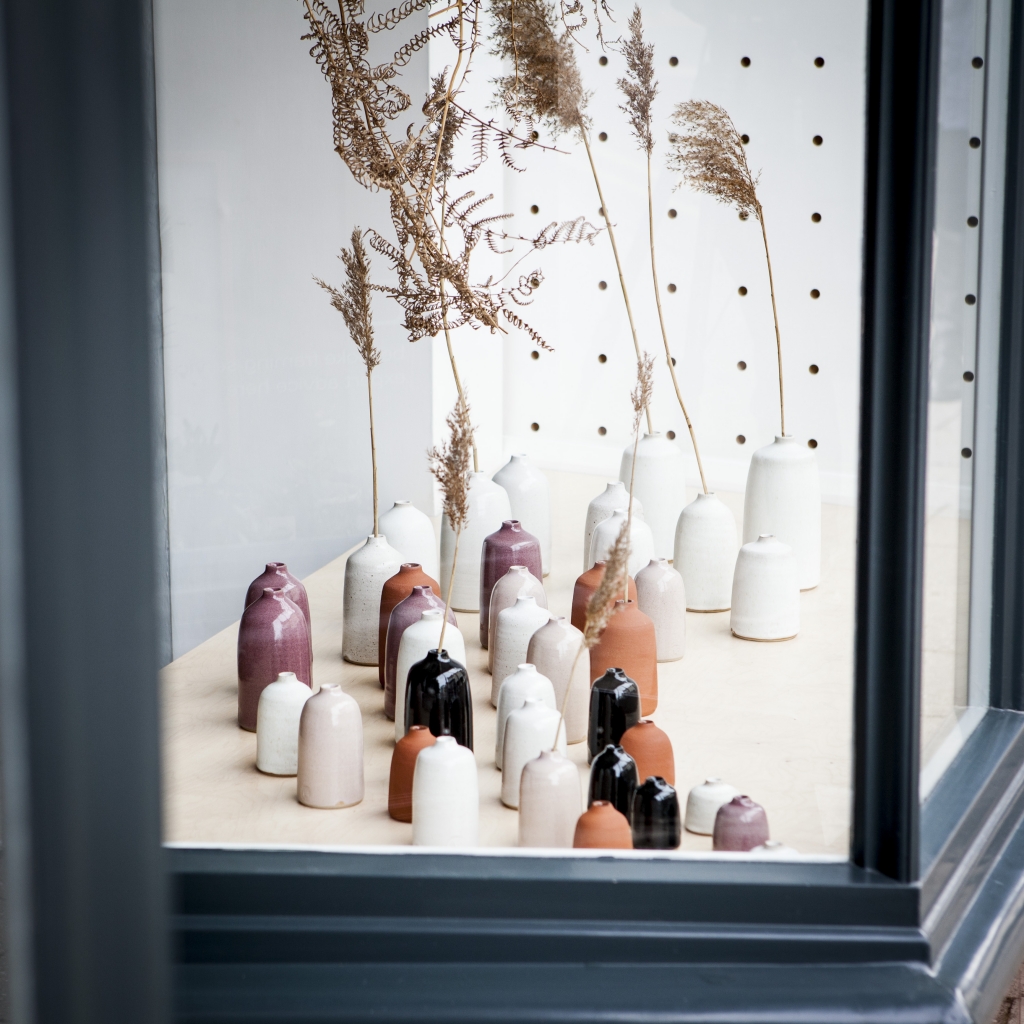 For this piece, Lucy has hand-thrown forty bottles, using specific weights of clay to produce differently-sized pieces. Also a writer, Lucy's love of rhythm and shape is inspired by an approach to poetic form. The use of repetition here is an attempt to create a single harmonious piece.
Several different stoneware and earthenware terracotta clays were sourced for the bottles. The clays have varying amounts of added grog which gives some of the pieces their sandy texture. Simple shiny or matt hand-made glazes allow the colours in the clay to freckle through to the surface, affecting its final texture and tone. The colour palette was inspired by daily walks on the beautiful Kent marshes: whites, greys, black, and occasional pops of warmer or brighter colours like pink.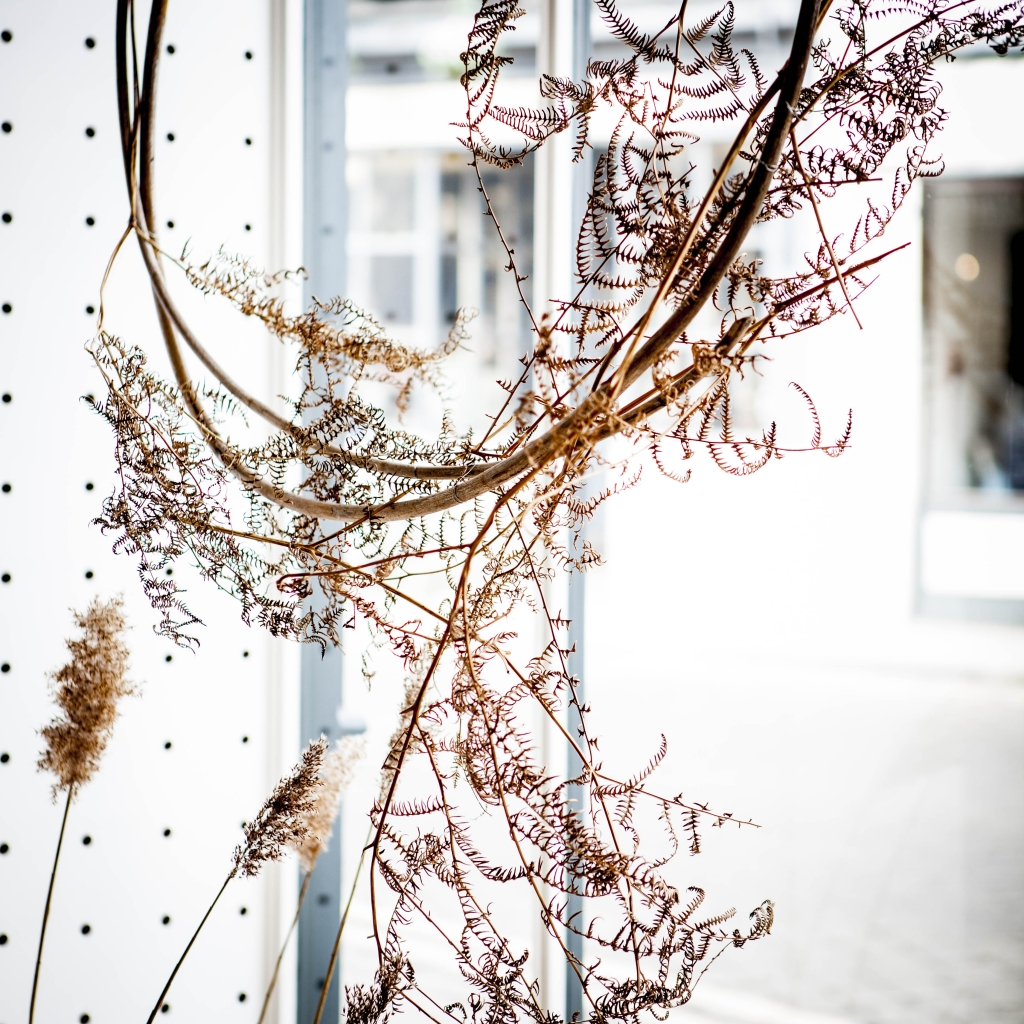 In this installation the cycle of the year in nature is represented by the hoop (a vintage find once used by a chimney sweep with brush attached). The marsh reeds stand and bend to the flow.
Karen Boatwright's practice is creative and diverse. Primarily a painter influenced by the natural and animal worlds, she is interested in the imagined narratives between place, people, animals and objects and how we use and share our territories. Her work often reflects the mood and time of a season.
With thanks to Andrew Hayes-Watkins (@andrewhayeswatkins) for the inspirational photography.