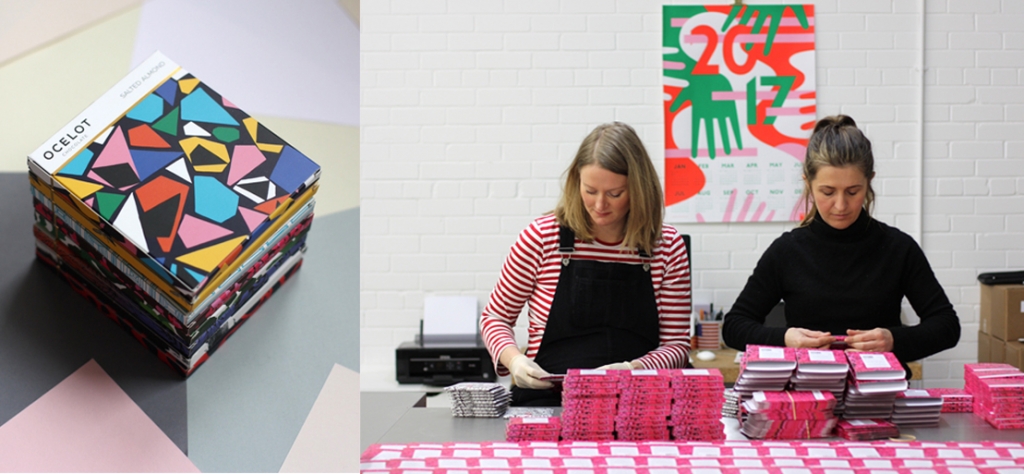 Ocelot Chocolate is a small business, based in Edinburgh, Scotland, and is owned and run by Matt and Ish who left their jobs as chefs to pursue their dream of making the most delicious confectionery in the purest way possible. They use only the highest grade organic and fair-trade produce, and actively engage with ethical business practices. The duo also draw and design all of their packaging and artwork themselves; Ish studied illustration at art school, and Matt has a keen interest in graphic design.
The organic chocolate Ocelot sources begins life in two origins: The mountains of Peru, and the jungles of Eastern Congo. Their supplier works tirelessly to ensure that the cacao farmers are given the fair trade and resources to enable them to focus on producing healthy, high quality cacao and that they are able to not only look after their own families, but also protect the environment and communities around them.
In order to produce the beans needed to make chocolate, these farmers nurture the trees, hand pick the cacao pods, and separate the beans for fermenting. After a carefully controlled fermentation process, the cacao beans are sun dried to retain their natural qualities. The beans are then hand-peeled, before further processing into nibs, paste, butter and powder. Ocelot uses a combination of couverture and also cocoa nibs which is then ground in their factory.
We are very pleased to be the sole stockist of Ocelot in Kent, and have a full range of flavours available in store. Just the (ethical and fairly-traded) ticket this Easter.