Studio Visit with Lucy Rutter
May 2021

We're sitting in Lucy Rutter's light-filled studio, in Faversham, Kent, on an unseasonably cold April morning. 'Have you seen the gorse in Cornwall at this time of year?' She smiles, 'it's beautiful: spiky and hostile.' She turns to look at a shelf, a row of her jugs sitting elegantly upon it. 'The flowers remind me of my yellow glaze.' This citrusy yellow glaze beams brightly from various shelves around the studio and I too am reminded of tiny gorse flowers scattered across the Cornish coastline. We are talking about the particular relationship between Cornwall and pottery. 'The clay from Cornwall is amazing quality,' she explains, 'I love it. It's thicker, more textured and darker in colour.' Drinking our coffee from some of her stony coloured, older, stouter mugs, feeling their grittiness, the importance of the tactile nature of the clay is obvious: the memory of touching pebbles and granite boulders that lie on the beaches around St. Ives within our hands. 'Touch is what makes pottery different to an artwork,' Lucy decides, 'They are made to be felt and to be touched.'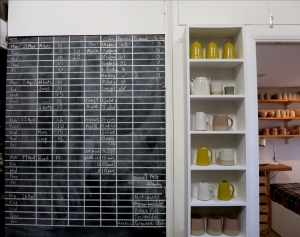 Like many ceramicists Lucy has spent time at the Leach Pottery, Bernard Leach's pioneering studio in St Ives, Cornwall, that celebrated its centenary last year. One of the two wheels in her studio – a robust, pale blue, wooden kick wheel – was designed by Leach's son, David. 'They are so generous with their knowledge and skills at the pottery,' she effuses. 'There are only three people on the course and you can just talk all day.' It is here that she mastered handles, learnt how to make teapots and did a course on repeat throwing: learning how to increase speed and production volume. 'I never did a degree in ceramics, so I've tried to pick it up in other ways,' she reflects. Pottery has been a hobby of hers since she was a child. She spent childhood holidays at 'pottery pier' on Brownsea Island in Dorset, eagerly searching for shards of pottery that had been abandoned to the sea. Her father, an engineer, was fascinated by the whole process of making. He encouraged her to dig up clay from the garden and they experimented together firing small clay figures and little bits of pottery. Years later, after her daughter was born and she was working as a teacher, pottery again became a space for experimentation and respite. 'I did a course at Hilderstone in Broadstairs as a way of doing something for myself. I bought a second-hand wheel and a really ancient school kiln. I put them in the shed in the garden and taught myself to throw by following pictures from a book,' she laughs. Some more courses at Morley College and Maidstone and a sabbatical from her high-intensity teaching career bring us to today, seven years later and Lucy's pottery is her business and full-time job.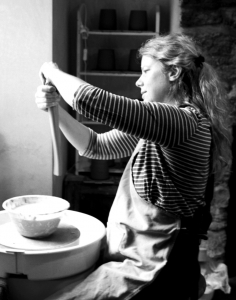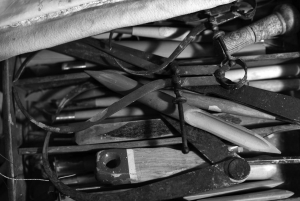 The results of these years of self-practice, patience, dedication, and attention to detail fill the studio. Her husband Guy paints in the adjacent space but it's a real 'room of her own', beautifully arranged with an eclectic array of things. It is a space, she says, where everything crystallised. A shelf spills with old 1970s pottery books in the corner – 'my little library' – piles of glaze notebooks lie alongside them, packed full of different recipes and numbers that correspond to the neat stack of test bowls that sit on the sturdy wooden table in the centre of the room. I see two wheels, two kilns, palettes of clay, a gridded chalkboard full of orders, vats of different labelled glazes, shelves lined with her jugs, mugs and bottles as well as those made by the hands of others and a splattered Roberts radio. I am struck by the wonderful alchemy of pottery, unassuming powders being mixed like George and his Marvellous Medicine, stirring and stirring 'as many colours rise up from the depths and blend together' – mineral blues appearing from buckets of orange liquid. 'You create a suspension in water and then I dip and pour, I love the effect. But I do get frustrated with glazing. I've got loads more to learn.' I wonder how she deals with these inevitable frustrations in what is a very solitary occupation. She explains that repetition is essential for her – the meditative nature of throwing the same thing over and over again: 'switching off one part of your brain and switching on another part' – and drawing a form and then making it lots and lots of times until she is happy with it. She walks everyday on the marshes, a similarly meditative and repetitive movement and she then enthusiastically tells me how she loves listening to things while she works, people being interviewed on Radio 4 and the Artfund podcast 'Meet me at the Museum.' 'You do need to find ways to work that loneliness through. Especially during the pandemic, I have felt lonely sometimes.'
But these difficulties don't seem to faze her; Lucy's fierce love for what she does and what she creates is infectious, she humbly returns throughout our conversation to the joy and privilege she feels from making a living from her craft. 'I just love looking at my jugs up on the shelf like that, horizontally so you can see their forms. I find it absolutely magical.' Leaving the studio I notice a small glass vitrine that faces out onto the narrow street: it showcases a small, curated selection of Lucy's bottles and Guy's miniature paintings. It's a hint of what lies inside: the craftsman and the artist in perfect harmony.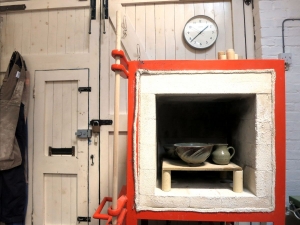 Words by Lily Thomas.
Photographs by Lily Thomas and Rosie Taylor.